How to hide headphones at work? Unfortunately, if you are working at such a place where it is not allowed to wear Headphones and you don't like to spend the whole boring day without music and getting bored all day. But the working time and place don't allow this and you need to hide headphones at the working place.
Let's go and know about the tricks of how to hide headphones at work?
How to hide headphones at work( know the tips)
1- Use your hair
3- Try Earmuffs
4- Use invisible earbuds
5-Waer a scarf
6- Wear a wig
7- Wear a hat
How can these tips be useful in hiding the headphones at work? Get deep into them:
Use your hair
This is one of the most perfect idea and suggestions to hide your headphones in the working place. But there is a problem with this idea that people having log hairstyles can hide their headphones. Small hair cannot perform the duty well as compared to long one.
But it's not an issue, we still have many options. Let's go and have them:
Use Bluetooth headphones
It is good to have Bluetooth headphones. Wired headphones can create a problem in hiding your headphones. Moreover, Bluetooth headphones also do not cause any issues regarding the connection.
If you don't have Bluetooth Headphones then it's not a big deal. You can use a hat to hide the wired headphones.
Try Earmuffs
These are more suitable and perfect to use in winter when it is quite necessary to use the earmuffs. But in summer when high degree AC is turned on in your office you can also excuse wearing the earmuffs to avoid the extra cool. In this way, you can easily hide your earbuds whether it is winter or summer.
There are many styles and colors are available for earmuffs. Try to choose one which suits your personality and also your clothes.
Use invisible earbuds
Quite interesting to listen to the term invisible. Yes, invisible earbuds are also available in the market now. Their color match your skin tone hence quite difficult to identify that you are using earbuds.
You can visit the nearest market to have these invisible earbuds and can easily use them during working time.
Wear a scarf
If you are a girl or lady, you can use a scarf to easily hide your headphones. Instead of wearing a hat, the scarf will be a good option to hide headphones at work. If your workplace allows using a scarf then it will be very good for hiding headphones.
In summer, a light linen/ silk scarf can withstand the heat. But in winter you can easily use a scarf with some heavier fabrics.
wear a wig
Yes, when you have short heard and want to hide headphones through your hairstyle, then wearing a wig with long hair will be the best option. Nowadays, there are many styles of wigs are available. People often use long-haired wigs to cover properly their ears so that earbuds are no more visible.
Some people even glued their earbuds to the wigs But it is not recommendable because you have to use earbuds and wigs in different situations. So it might not suit any other situation.
Wear a hat
It will be a good idea to use a hat while working. If your working place allows using a hat or any other casual wear so you can easily use them.
Wear a sweatshirt with hoddies
If your working place or company allows wearing a casual dress or if there are no restricted uniforms then it is good. You can use a sweatshirt with hoddies to hide your headphones with help of attached caps with them. So you have to wear loose clothes that are useful for hiding headphones.
How to stay protected?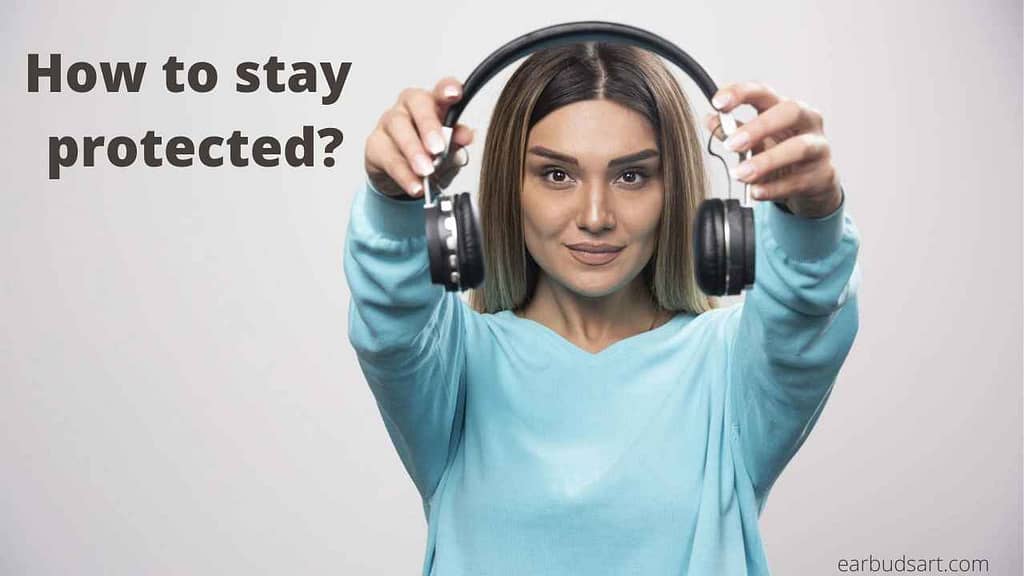 Here were all the tips to hide headphones at work. If you have properly managed to hide headphones then here are some precautionary measures to stay safe and sound.
Keep the volume low
You must take care of it that volume should be below 60%. It should be at that level that is not audible to the others. Moreover, You will also be not able to listen to your boss's instructions or your coworkers.
Don't move while listening to music
This is also important that you should not make such moves that make you strange. It is quite common to move and shake your body and head while listening to music sounds. Only hiding headphones is not enough You must have to be serious and concentrate on work.
Keep phone silent
If your earbuds get out of charging then at that time your mobile receives a notification. If your mobile is not silent, that notification sound can be heard by anyone and can reveal your secret. So it is good to keep the phone silent during working time.
Stay attentive and alert
It is necessary to stay alert and active while listening to music because music can make you unaware of your surroundings. You are already doing against the rules and if anyone gets to know your secret, he/ she can complain to your boss or HOD.
Avoid noise-canceling earbuds
Apple AirPods have an active noise cancellation feature that makes you unaware of your surroundings. These types of headphones are not recommended in working place. they make you totally impaired by your surrounding and you cannot respond well to your colleagues or your boss's instructions.
Frequently Asked Questions (FAQs)
How to hide headphones at work?
If you work at a place where it is not allowed to use headphones and it is difficult to pass the time easily so here are some tips to hide the headphones at work. Use your hair to hide the headphones. If you have small hair then you can also use a hair wig to hide headphones. Try to use loose sweatshirts and hoddies with a cap if you are allowed to use casual wear at working place. 
if you are a student and want to take headphones with you in your class then you should also know the tips on how to hide them. Always use undergarments (like jeans soft trousers and hoodies) To hide headphones in class. Use a bag with a lock so that nobody could use your bag. 
How to hide Airpods at work?
It is always preferable to use Airpods at working place in order to hide them. If you are not allowed to use gadgets at working place but in case of avoiding boredom then you should use Airpods. Airpods will be so easy to hide. But must take care that the volume level should be below that no one can hears you.
Conclusion
I can understand the boredom of working place and time. The working time is very hard to pass without music and moreover, you also have to call your beloved one. In these situations, headphones or earbuds are quite necessary, but the working place or company doesn't allow them. You have to hide your gadgets.
Hope so this article will be very useful for you. Want to ask any questions, leave a reply in the comment section below. Also, share with your friends and family as it will be grating for them.
GOOD LUCK!