Congratulations! you have bought your new modern gadget  AirPods
but you will tackle the problem of charging. In this article ( a perfect guide) for charging the earbuds, you will know how to charge your AirPods and the case of AirPods.
How can you charge your earbuds?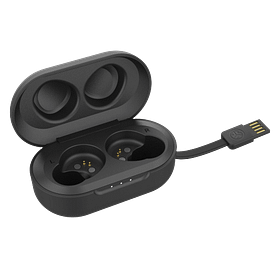 nowadays there are many types of AirPods are available and there are also many methods of charging them. First of all, we will discuss the types of chargers for AirPods and their charging case:
Charging for the First Time
Charging for the first time is the most critical step. Electronics given by premium companies like Philips, Sony, and Apple suggest that you must charge your device before first use although they already have some charging.
First, you must fully charge your device, but if you use it before charging it will not cause any damage to your device but will minimize the performance. If you charge fully before first use it will enhance your battery life.
You should charge for at least 2 3 hours for best working and after charging plug them off and you can connect with Bluetooth on your mobile phones and enjoy your favorite music!
The indicator bulb will show the charging status.
Charging after first use
charging earbuds after the first use, need no careful attention or practice. you can charge the case of the earbuds with or without earbuds in it.
when you put earbuds in the case make sure that they are in their place like the right earbud is on the right slot indicated by R and the left earbud in the left slot indicated by L. After first charging you can connect your earbuds with your mobile phones or your other devices like pc or laptop to check the audio quality and battery life.
Charging true wireless earbuds
Wireless earbuds are those which don't have any wire or cable to connect with other devices instead these can connect by Bluetooth to your mobile phones.
charging the wireless earbuds need no special technique.You can use a USB or type c cable to charge true wireless.
Charging the case of the earbuds
Nowadays there are some earbuds charging cases that are very common in the market which can be changed without putting the earbuds in them.
You can charge the case of the earbuds and after this, you can put the earbuds ii them and they will start charging them automatically.
plug the charging case of earbuds on the USB data cable or certified charger given with the product. Charge for 2 3 hours approximately
Charging the earbuds
These days, there are charging cases for earbuds that can charge earbuds with or without plugging. Once you charge the case fully and after putting them into the case they start charging.
But this facility is useful when you are on a journey or at such a place where there is no energy supply. But if you don't have such earbuds or cases you can charge the earbuds by putting them into the case.
Plug the case, put the earbuds into them, and close the lid. After opening the lid, the indicator bulb will show the battery status by different lights like green, blue and red.Battery status
It is the most important thing for your earbud's best performance that you must charge according to their energy need, for example, if earbuds charging is 70% and you keep them charging even after 100% it will decrease battery life (not lithium-ion batteries) So charge them according to their capacity and energy needs.
Red light indicates a low battery.
Greenlight  indicates fully charged state
The blue light indicates the charging state.
Safety measures
Here are some safety measures which can be used to protect the device and also to enhance the battery life.
keep them in the case when not in use
Some types of earbuds continue using batteries even when not in use because they don't have an off button, so to save battery, use must keep them in the case when not in use.
Don't use at low battery
This is a very beneficial tip for earbuds and also for other electronic devices like your mobile phones and laptop that you should not use at low battery status it is because it will also decrease the battery life and these electronics emit very dangerous rays which are harmful to human health.
So to maintain your battery life, you should not use them at low battery status.
Protect from damp
Earbuds of different companies have a range of tolerating dampness until they are vulnerable to damage. But there are IPX ratings in earbuds that make them able to withstand the rage of dampness.
Higher the rating, the higher the capacity of earbuds to tolerate the dampness.
Don't use both earbuds at a time
You should use one earbud at a time it will also enhance battery timing and this will be also useful when your one earbud is out of charging you can use the second one.
Volume limit
Set your volume limit up to 70% on your device, to protect your device and also your ears.
60/60 rule
Listen at 60% volume for 60 minutes and then take a break to allow the ears to reset.
Use a power bank
Let's suppose when you are out on a journey and your earbuds run out of battery, at that time you can use a power bank to charge your earbuds.
Time to sum up!
Here we go!
I hope you learn a lot from this article and after reading it you will be able to learn how to charge your devices not only earbuds but also wireless earbuds and the charging case of earbuds. And you will also be able to enhance the battery life. Now you can use your pods like you do!GOOd LUCK.